So my husband and I went camping in August, yes, with a tent, in Big Sur, CA.  The weather was perfect and it wasn't too cold at night.  We also bring all of our own food and, of course, it's gluten free!  My husband isn't celiac or gluten intolerant but he goes gluten free for the 5 days with me!  The only thing he's not too keen on is gluten free beer.  We brought two gluten free beers with us – one Ale, and one dark ale.  The brand from Green's is the best in my humble opinion because it's not made with sorghum.  They are pretty good but just a bit different from regular wheat beer.
Here's a picture of McWay Falls, Big Sur, CA – it was a beautiful day.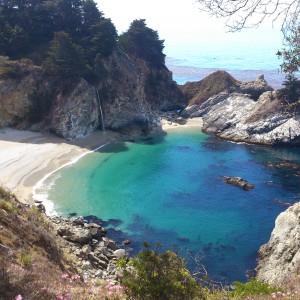 Anyway, living gluten free while camping is not that difficult.  All you need to do is some up-front planning.  What will you make for breakfast, lunch, and dinner?  We cooked eggs for breakfast but one day we made pancakes with oat flour – so yummy!  Lunches you will need to purchase g-free bread like Udi's.  Dinner – meat and vege's.   Let me know if you need help with planning.