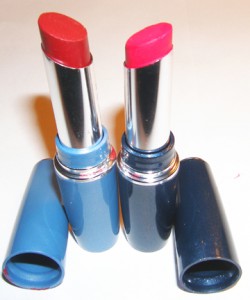 Have you heard that there may be gluten in your lipstick?  What?  I know!  Imagine how much you could ingest every day just from having it on your lips!  I used to use Estee Lauder's brand of lipsticks and were happy with them (except when they discontinue a color I like!)  I've been seeing more and more about lipsticks containing gluten and so I went on a search for the ingredients of Estee Lauder lipsticks.
So I sent Estee Lauder an email requesting a response with a list of what their lipsticks contain – which of the common allergens they contain.  It took a while but I finally received an email.  Here's a breakdown of what they sent me:
All Day Lipstick does NOT contain gluten
Double Wear Stay in Place Lipstick contains Soy and Corn
Pure Color Long Lasting Lipstick contains Soy and Corn
Pure Color Vivid Shine Lipstick contains Wheat, Barley, Soy, and Corn – Has GLUTEN!
Pure Color Sensuous Rouge LipColor contains Soy
Pure Color Lipstick contains Soy and Corn
Pure Color Crystal Lipstick contains Soy and Corn
Signature Hydra Lipstick contains Wheat and Barley – Has GLUTEN!
————————————————————————————-
Phew and YAY!!! – I discovered Red Apple Lipstick at the GF Expo years ago and have been buying them all the time!  All good ingredients and no gluten!  Check them out at redapplelipstick.com – they sell many different colors!  And they sell all kinds of makeup that is gluten free!