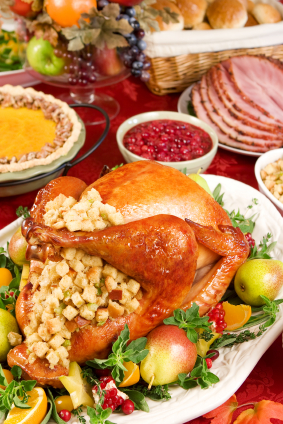 Thanksgiving – the traditional dinner that includes turkey, stuffing, mashed potatoes and gravy, baked yams, green bean casserole, and cranberry sauce.  And we can't forget those pies – pumpkin pie, apple pie, pecan pie, etc.  They are all definitely described as comfort food.  But will it leave you comfortable or not?
Everyone knows that gravy is made with flour to thicken it – usually wheat flour of some sort.  So that's an easy one to skip or make your own gravy with gluten-free flour.  Mashed potatoes are pretty safe too if you make them from scratch.  Homemade cranberry sauce is safe.  The stuffing is usually made with bread, so unless you make your own stuffing from scratch or purchase a packaged stuffing mix that is gluten-free, you'll have to skip that too.  You would think that the turkey would be safe, right?  Well, don't eat that turkey just yet.   I've heard about food providers injecting their turkeys with broth and other "natural" ingredients.  These turkeys are pre-basted with broth, water, flavor enhancers and natural flavors.  This always raises a red flag with me because some of these ingredients may contain gluten.  So unless your turkey says that it's gluten free right on the label or you can identify all of the ingredients and know for sure that they don't contain gluten, you can't be safe.
Here's a website that lists a lot of different turkey companies such as Butterball, Foster Farms, Jennie-O, etc., and their turkey's gluten status.
http://www.maxwellskitchen.com/beware.htm
And, remember, any turkey that is stuffed is not gluten free either!
Now, on to those pies!  Of course, all pies that are made with wheat flour in the crust are off limits.  If you really want pie, I would suggest either making your own or buying a gluten free pie at your local Whole Foods Grocery store or any other store that sells gluten free items.  I've had pumpkin pie made with brown rice flour before and it's actually quite yummy.  And with whipped cream, who can go wrong?
Have a Happy Thanksgiving everyone!