As I have written before, travelling always brings out a certain, well, uncertainty in where I might find my gluten free food choices.  It was no different as we travelled up North to Seattle, Washington.  I, of course, travel with plenty of emergency food items in my purse.  My new favorite is Pamela's Oat Cranberry Almond bar.  At 140 calories, it packs so much flavor and satisfaction with every bite.  I also brought dried Montmorency tart cherries – great as an anti-oxidant!
So the first day we were there, we decided to take a walk up to Pike Place Market.  It was a beautiful day and everyone was out and about.  We stopped at a few places; my husband bought a cup of chowder and I bought a banana.  While strolling along the street, I saw a bakery, but what really caught my eye was this red tape around the section marked, "Gluten Free."  I'm not too much of a baked goods eater, but I asked the store manager about the way they baked their cookies, rolls, etc.  They talked about dedicated pans and spatulas, etc.  She also mentioned that there was another bakery down on another street below the market.  And that this new bakery also served sandwiches.  Yum!  Her directions were a series of signs and landmarks.  How fun is that?
Here's the directions she gave us:
Head inside the market and when you see the neon sign that says, "Rotary Grocery,"
go down the hallway past the Pike Place Bakery …..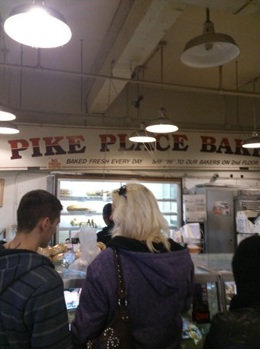 all the way to the elevator.  Take it to the bottom floor and then turn right.  There you will see the 1500 Coffee & Specialty Bakery.
Step inside and see all of the gluten free goodies.
Ask for a sandwich if you like.
Here's a picture of one of their very happy gluten free customers!  She's enjoying a very yummy cinnamon roll.