Shelley on December 6th, 2015
I have created a very yummy gluten free oat bar for you guys to try.  It also got ginger in it to help fight cancer cells!
Try it out and let me know what you think!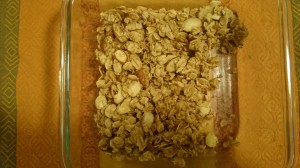 Gluten Free Oat Bars – Recipe
Ingredients:
2 C gluten free oats (not steel cut)
1/2 C sliced almonds
1/2 tsp ground ginger
2 tsp gluten free oat flour
1 tsp ground cinnamon
2 tsp Vanilla extract
10-12 tbsp raw organic unpasteurized honey
Instructions:
Mix together in a bowl until thoroughly mixed.  Spoon into a small glass dish and smash down until evenly distributed.  I just made it up so feel free to let me know how to improve it!
Enjoy!